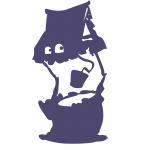 Our first blog!!
What a time to be alive — or rather — what an exciting time to join the mixed reality game dev scene 🙂 Say hello to the Well Told Well! He's quite a happy camper (as you can see from his dashing smile).
Well Told started as a group of friends who had a dream to make a video game called Foglands (see screenshot above). It started out as a school thesis project, but upon graduating, we knew we had more than one story to tell. Somehow we accidentally started a studio along the way and now we're navigating the strange waters of the start-up world while simultaneously being a bunch of nerds geeking out over the prospect of storytelling in virtual and augmented reality.
But really, starting a company is much more than fun.
Sometimes it's painful and anxiety-inducing, sometimes it's ridiculous and even somewhat masochistic. That's the harsh reality of a startup atmosphere, but we're proud of Well Told for our endurance and confidence as a team to get through the hard days. We're a rag-tag band of adventurers in this cramped little ship, motoring through the wild and stormy seas of startup-dom — Needless to say, it's been the ultimate adventure thus far. Most days it really feels like we're making progress.
Other days we play Putt Putt Goes to the Zoo and laugh about talking Tractor Homunculi People.
Well Told's objective (aside from researching ancient childhood relics) is to utilize emerging technologies (Mixed Reality, Virtual Reality) in ways that build literacy for our users so that we may continue pushing the complexity of our applications into deeper, more immersive waters. Our focus on using animated characters as ambassadors to the virtual world  has allowed us to connect with people of all ages, proving that characters and stories can be effectively brought to life in these mediums in ways that truly move people.
This is really what our company is all about.
Connecting people.
Soon 'social gaming' will consist of the kind of socializing seen in Pokemon GO with users joining forces to catch elusive digi-dudes. 'Mobile gaming' will mean wandering through your house or neighborhood with others, enjoying any number of worlds brought to life by teams like ours. We could rant forever about our excitement for the future of gaming, but for now we'll get back to working on our own games we have in store. Hopefully you'll enjoy some of the products we'll be launching in the next few months, and until then we'll be tearin' it up.
Thanks for reading!